What Makes an Empanada Argentinian-Style?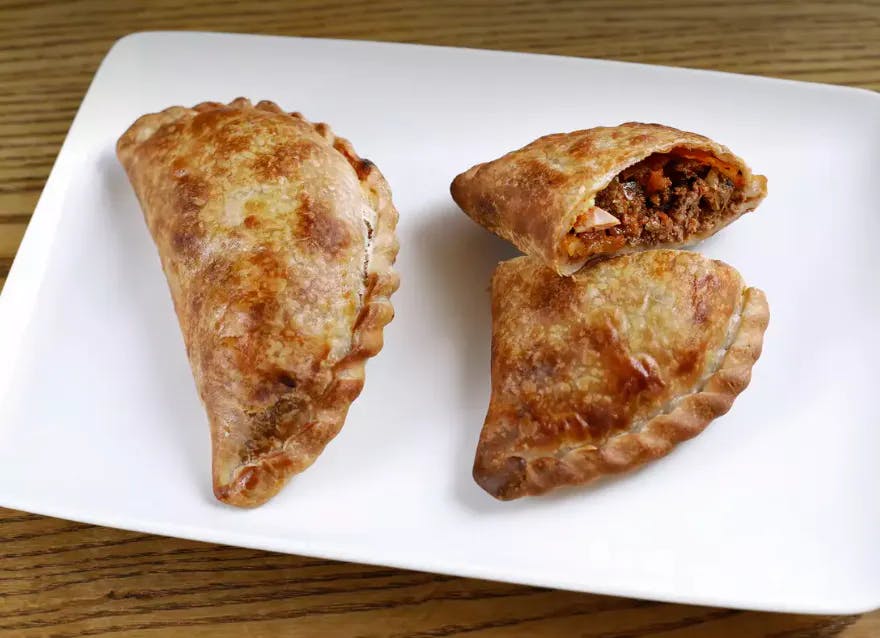 Got a craving for handmade empanadas? You're in luck — there's a lot to choose from!
Empanadas are popular in several South American countries, like Chile, Colombia, Ecuador, and Venezuela. You'll also find them as far away as Sicily, Indonesia, and the Philippines. This diversity has resulted in many recipes or "styles" of empanada.
But there's nothing quite like an Argentinian-style empanada (we'll tell you more about them below). Enjoy Argentinian food in San Francisco at El Sur Empanadas!
What's an empanada, anyway?
Empanadas are a type of turnover. The name comes from the Spanish verb "empenar," which, loosely translated, means to "wrap something in bread."
Empanadas are made by folding dough over a filling, which usually consists of some type of protein, such as beef, chicken, or cheese, and/or vegetables, like diced potatoes, corn, and carrots.
Then they're either baked or fried and served with a variety of dipping sauces.
What makes Argentine empanadas special
In Argentina, empanadas are a staple. Each region of the country has its own version.
They gained popularity as a working man's lunch because it's basically a full meal inside a delicious pocket that's easy to carry. They're the perfect lunch on the go and popular street food in Argentina.
Now, Argentine empanadas aren't just for lunch. They're often served as an appetizer or the main course at parties and festivals. In addition to being easy to eat, they require little or no clean-up afterward!
A flour-based dough (rather than maize or corn) is used to make traditional Argentine empanadas. This variety means there's an empanada for everyone! Ground beef, cubed beef, chicken, ham and cheese, ham and onion, spinach, and humita are some of the most common types of fillings.
Argentinian food in San Francisco
At El Sur Empanadas, our Argentine-inspired empanadas are handcrafted by using a French culinary technique.
Our Traditional (hand-cut beef) empanadas honor Argentina's most famous type of empanada from the Tucuman province. It has a filling that includes hand-cut beef, onion, and pepper.
Our Pollo Saltado (chicken) empanadas include onions and seasoning. They're a match for empanada Jujeña from the Jujuy province.
For an empanada you'd find in the La Rioja and Catamarca provinces, try our Carne Sauve (ground beef) empanada. Its filling includes ground beef, onion, and olives.
If you'd like something other than beef or chicken filling, you can savor the Parisien (ham and cheese) or Tartiflette (breakfast bacon) empanadas. Order today to experience Aregntinian Food in San Francisco at El Sur Empanadas.
Our vegetarian options include:
Verde (spinach and cheese).

Champiñes (mushroom and cheese).

Verdura (vegetarian breakfast).

Manzana (sweet apple) empanadas.
Empanadas in San Francisco
The best part about El Sur Empanadas is you don't have to travel to Argentina! Enjoy hot empanadas in San Francisco through pick-up or delivery, or grab a package of flash-frozen ones at our café in Potrero Hill to bake at home, or have those delivered, too.
Delivery is free in the San Francisco Bay Area, and we ship throughout all of California. Order online today for a taste of Argentina and enjoy empanadas in San Francisco. We also do catering with the El Sur food truck, so contact us today with your event information!
ORDER YOUR EMPANADAS NOW!ORDER YOUR EMPANADAS NOW!