What Is The Difference Between A Calzone And An Empanada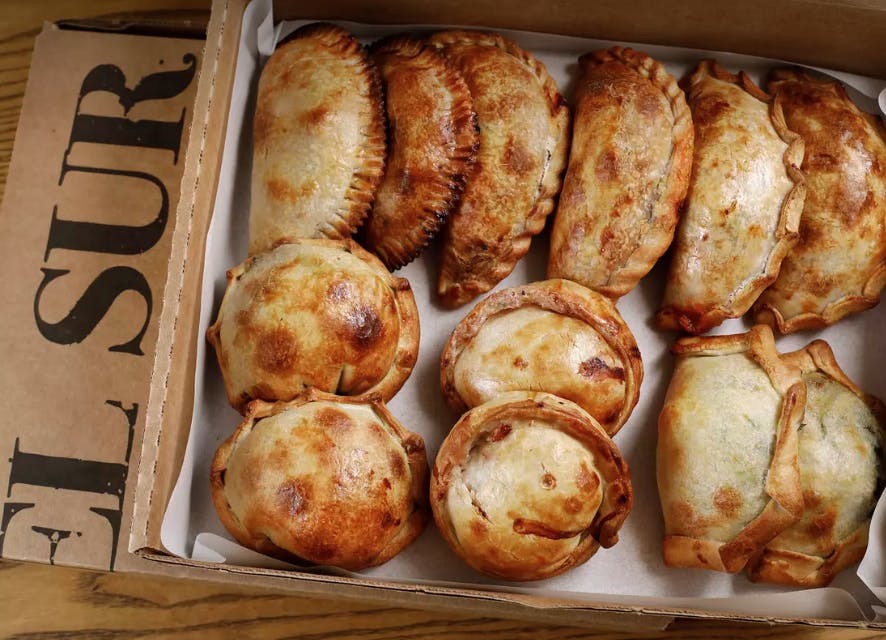 Despite their similar half-moon shape, empanadas and calzones are two very distinct foods with completely different origins and flavors. Empanadas are a type of stuffed pastry found in Latin America and Spain while calzones are a baked pizza-style Italian turnover. Keep reading to find out more about the differences between these delicious treats.
Origin
While the exact birthplace of empanadas has not been established, it is believed that they originated in Galicia in northwest Spain (the word "empanar" translates "to wrap" in Spanish). The first mention of the snack can be found in a Catalan cookbook from 1520. Today, empanadas are often synonymous with Latin American cuisine.
Calzones hail from 18th-century Naples in Italy. In fact, the term "calzone" means "trouser leg" in Italian. While the connection between the food and trousers is dubious, it is said that once upon a time trouser legs might have been stuffed with edibles for Christmas — the same way, today calzones are stuffed with different fillings.
Dough
Empanada dough is usually made with flour, eggs, butter, salt and water. The dough is rolled into round patties before being stuffed with filling. It is usually soft and flaky in texture.
When it comes to empanada dough in Latin America, there are some regional variations. While Argentinian empanadas are made with flour, Colombians and Venezuelans make their empanada dough with cornflour.
Calzone dough is essentially pizza dough. Chewier and more solid than dough used for empanadas, it usually contains flour, yeast, sugar, salt, oil and water.
Size and Filling
While both empanadas and calzones have the same half-moon shape, they differ in size. Basically, empanadas are miniature versions of calzones.
Empanadas are traditionally stuffed with seafood or ground or shredded chicken or beef. Alternatively, they can also be filled with vegetables such as carrots, potatoes and corn. Occasionally, they can also contain fruit.
Different counties, or even regions, of Latin America have their own takes on empanadas. Argentinian empanadas, for example, have many different variants. In Salta, they are filled with potatoes, peppers and chili while the Mendoza variant contains olives and garlic.
Calzones, on the other hand, are usually filled with ham, salami, egg, vegetables, and different cheeses including mozzarella, ricotta, pecorino or Parmesan. They also normally come with tomato sauce.
Cooking Style
Once empanada or calzone dough is stuffed with filling, it is folded into the distinctive half-moon shape. While empanadas can be baked or deep-fried to crispy perfection, calzones are usually baked in an oven just like pizza.
Satisfy Your Tastebuds
Ready to try some of the best Argentine-style empanadas in the area. Whether you are after ready-to-eat or ready-to-bake options, El Sur Empanadas has you covered!