Let's Take A Look At Our Menu!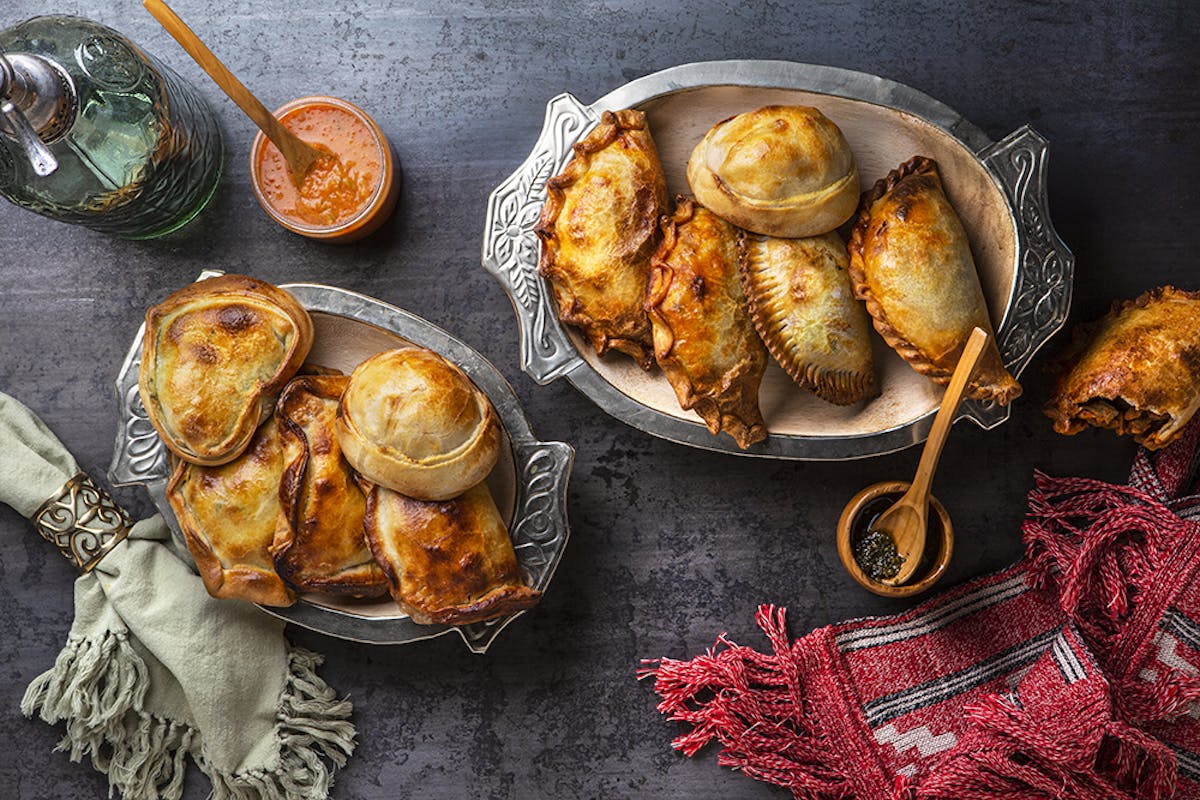 Empanadas are a meal anyone can enjoy
Delicious, filling, and super easy, empanadas are the perfect meal for your on-the-go lifestyle. At El Sur, our Argentinian-style empanadas are handmade and come in a variety of delicious fillings. We're sure you'll find one you can't live without. Better yet, we bet you'll find one you'll love and one your family or friends will love as well. Great to eat but even better while sharing. Let's take a look at the different options you can expect when deciding which empanadas you'd like to try.
El Sur has your taste buds covered.
Not only can you choose between a hot or frozen option, but there are 8 different flavors to choose from, a few boxes and package options, as well as two different sauces. Let's explore those options a little bit below.
EL SUR'S FLAVOR OPTIONS:
1. The Traditional (Spicy) Empanada
Made with hand-cut Five Dot Ranch beef, onions, oregano, pimentón, red pepper flake, olive, & egg, the traditional empanada is an El Sur favorite.
2. The Carne Suave Empanada
The Carne Suave is another delicious option made with Five Dot Ranch ground beef, onions, oregano, pimentón, olive, & egg.
3. The Pollo Saltado (Spicy) Empanada
Made with high-quality chicken, onions, tomatoes, serrano, parsley, onions, olive, & egg, this one hits all the right notes for chicken lovers.
4. The Parisien Empanada
Made with kurobuta ham, prosciutto, green onions, five kinds of cheese, & chives, the Parisien is a culinary treat for anyone who wants to try something a little different than the more traditional empanada.
5. The Verde (Veg) Empanada
Made with swiss chard, spinach, onions, five kinds of cheese, olives, & egg, The Verde is a hit with those who prefer veggies more than meat.
6. The Champiñones (Veg) Empanada
Made with sliced mushrooms, shallots, crème fraîche, provolone, & chive, The Champiñones is another empanada that stands out from the rest. Give it a try. You won't be sorry.
7. The Tartiflette Empanada
Made with bacon, onions, potatoes, eggs, cheese, and chive, this is definitely the breakfast go-to you've been looking for.
8. The Verdura Empanada(Veg)
The Verdura is a simple yet delicious breakfast empanada made with braised greens, onions, potatoes, eggs, and cheese.
El Sur also offers a variety of box and package choices for our customers. Choose from a hot, half-dozen, or full dozen box that includes empanadas in any mix or variety. It's your choice! Or perhaps you'd prefer one of our flash-frozen boxes to pop empanadas in the oven later. You can choose from a build-your-own-box option with 12 or 24 empanadas or even the sampler box, which comes with an assortment of 24 of our most popular empanadas. We even have a Veggie Combo Box that comes with; 8 Verde, 8 Champiñones, 4 Verdura (Breakfast Veggie), and 4 Manzana (Apple, Sweet) empanadas.
The choices and options really are endless.
A FEW OF OUR OTHER PACKAGES ARE:
The Wine Night Package:
Choose 12 frozen empanadas and 3 bottles of wine. Also comes with our two sauces. The perfect package for a romantic night in. Or maybe just a girl's night in! I bet your book club would flip over this package.
The Breakfast Package:
The Breakfast Package features 8 Tartiflette Empanadas (Breakfast, Bacon), 8 Verdura Empanadas (Breakfast, Veg), 4 Manzana Empanadas (Apple, sweet), one 12oz Bag of Sightglass "Owl's Howl" Ground Coffee, and one 8oz Sauce of your choice. A fabulous breakfast made super simple thanks to El Sur.
So, whether you're a Traditional Empanada kind of person or more of a Tartiflette Empanada personality, El Sur has you covered. Check out our site to see where you can grab hot or frozen empanadas or see if we ship to you.