Grab & Go Empanadas With The El Sur Food Truck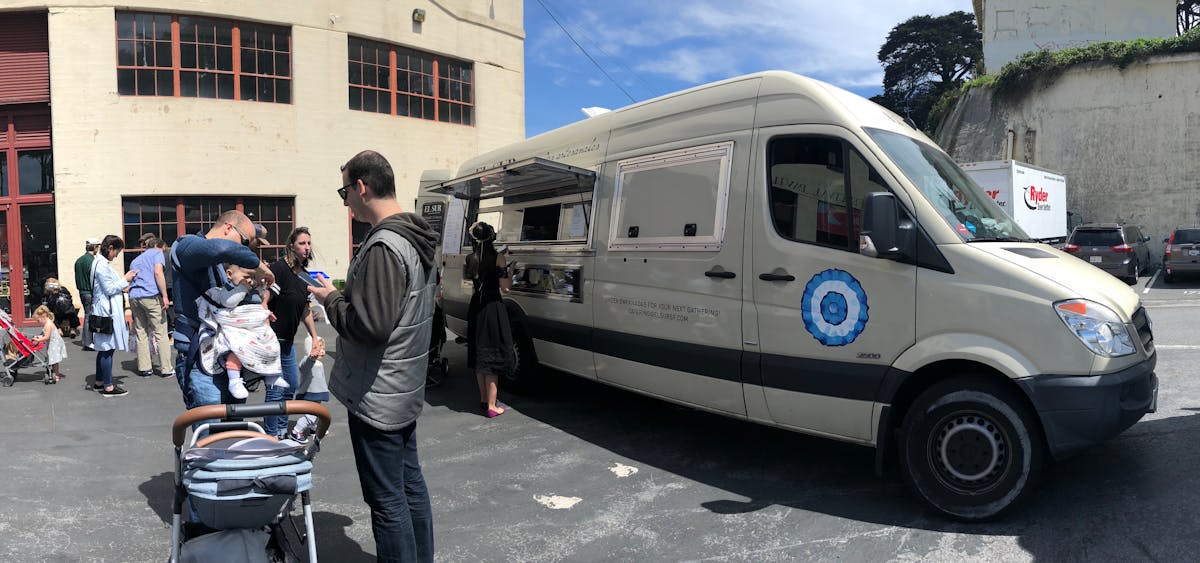 Life is full of special occasions that take place outdoors. They're opportunities to dress up, catch up with loved ones, and enjoy great food and drink in gorgeous weather. The result is memories that sometimes last a lifetime.
But when you're the one planning an outdoor celebration, the pressure is on to provide everything your guests need to have a great time: chairs, tables, music, and enough food.
Leave the event catering in San Francisco to El Sur Empanadas and the El Sur food truck. It's a great option to have at your outdoor celebration! The grab-and-go convenience of our handmade Argentine-style empanadas makes them perfect for many occasions. For example:
Annual company picnics or barbecues
Show your appreciation for your colleagues by bypassing the been-there-done-that hamburgers and coleslaw with something unique and unexpected.
Company picnics or barbecues are meant to strengthen bonds among coworkers. Authentic empanadas made with local ingredients, and served from our food truck, will give them something to talk about.
Kids' birthday parties
Empanadas are perfect for kids' birthday parties for so many reasons! For starters, the kids will be excited to get their meal from a food truck. It's not something they do every day! If you're having an inside event, consider empanadas delivery instead.
Kids also love eating with their hands, and empanadas can be carried and eaten with one hand. And they'll enjoy biting into the hand-crimped dough and discovering what's inside. The best part? You won't have to wash dirty dishes afterward!
Graduations
Completing high school, college, or graduate school is a considerable achievement. Some graduates may choose to travel before they embark on a career or additional schooling to celebrate their success.
If your graduate is traveling to Argentina, Chile, Colombia, Mexico, Ecuador, El Salvador, or Venezuela — countries where empanadas are very popular — having El Sur Empanada's food truck on hand is the perfect nod to their next adventure.
Family reunions
It's no secret families include diverse personalities with diverse tastes. The beauty of empanadas is that there's one for everyone, thanks to the variety of fillings.
You can grab empanadas from the El Sur food truck that are stuffed with ingredients that include hand-cut beef, chicken, ham, cheese, spinach, mushroom, onion, and even apple. Or consider an empanadas delivery that can be enjoyed whenever. We guarantee you won't have to worry about what to do with leftovers!
Wedding receptions
You can go to a wedding reception and find a make-your-own-sundae stand, so why not give guests and the bridal party the option of enjoying El Sur Empanadas, as well? If you're looking for catering in San Francisco, look no further!
They can grab their favorite from our food truck and then easily walk around and mingle as they enjoy their food. And if a food truck doesn't quite suit the tone of your wedding reception, enjoy our empanadas delivery instead. No matter how it's done, empanadas make the perfect event catering option, and they always arrive fresh and hot!
Catering in San Francisco
Getting food for your outdoor celebration just got easier with the El Sur food truck. El Sur Empanadas are just right for many types of outdoor events, providing guests with a unique and delicious experience and providing you, as the event planner, with one less thing to worry about! The El Sur food truck can cater in person or have a scheduled empanadas delivery timed for your event! Consider fresh empanadas for your event catering in San Francisco!
Event catering in San Francisco just got a whole lot easier with the El Sur food truck for your next outdoor celebration. You can reserve it online or email catering@elsursf.com.