Empanadas: The Perfect Outdoor Event Food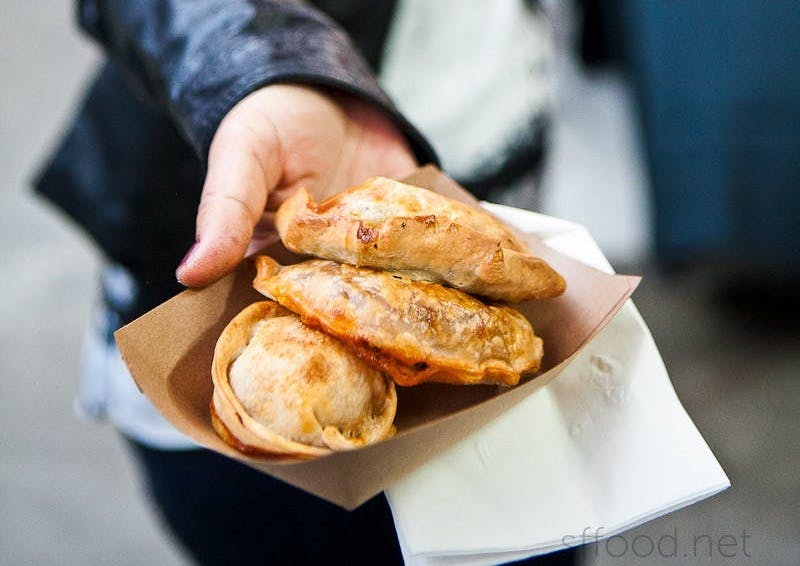 Are you looking for the perfect picnic food? There are many things you have to consider. Portability, access to tableware, general flavor, and just how long that flavor will last on the go. The best way to liven up any picnic would be empanadas!
Empanadas are a form of pastry stuffed with filling, common in Latin America. At El Sur, we specialize in homemade, Argentinian-style empanadas. What started as a small business out of a van now serves as a full-fledged cafe, catering, and food truck business named one of the Top 50 Food Trucks in the Bay Area by the SF Chronicle. Now, we hope to bring El Sur Empanadas for others to enjoy out and about over the summer.
Empanadas are packed with flavor and are a significant upgrade from stereotypical picnic food like sandwiches. They're perfect for outdoor dining, where you aren't likely to have the means to reheat your food. Additionally, they're stuffed and packed to give you lots of energy for whatever outdoor activities you have planned.
Perfect for the entire family, you can eat them in just one hand. This is perfect for the classic parent, making it easy to both wrangle kids and keep an eye on them while eating. Most parents will understand how difficult it is to take care of children and sit down for a meal. However, since empanadas are filling while also being easy to carry, they're suited well for a parent or babysitter. Due to the flavor profiles being comforting with fillings such as meat and cheese, empanadas are well suited for even the pickiest eaters among children to enjoy as they play or after as a meal.
Empanadas are considerably easier to prepare than many picnic alternatives. El Sur Empanadas are handmade, flash-frozen, then able to easily be ordered. From there, you can pop them in the air fryer or toaster oven and spend your time elsewhere until they're done. Simply pack and go on your outing right after. Much simpler than having to individually prepare each meal, worrying someone forgets tableware or they'll get soggy in the car.
Perhaps you have to feed a larger group, and a few boxes of frozen empanadas, delicious as they are, just isn't going to cut it. Luckily, El Sur Empanadas are also made hot to order. If you're hosting a large outdoor event, empanadas are the perfect option to have catered. They come in a plethora of different types, meaning there's a flavor to suit everyone's tastes or diets. Since empanadas can easily be picked up with one hand, they suit social events as your attendees can grab them and go as they mingle. They can also be dressed up as a meal instead of just an appetizer, meaning you can get the most out of one food for all your outdoor dining needs.
Consider raising the standard of every picnic you go to by bringing empanadas. You'll never be able to go back to any other picnic food after. With how easy it is to prepare a box of quality frozen El Sur Empanadas, you're sure to shine at every gathering with little difficult preparation required!