Empanadas For Your Corporate Gatherings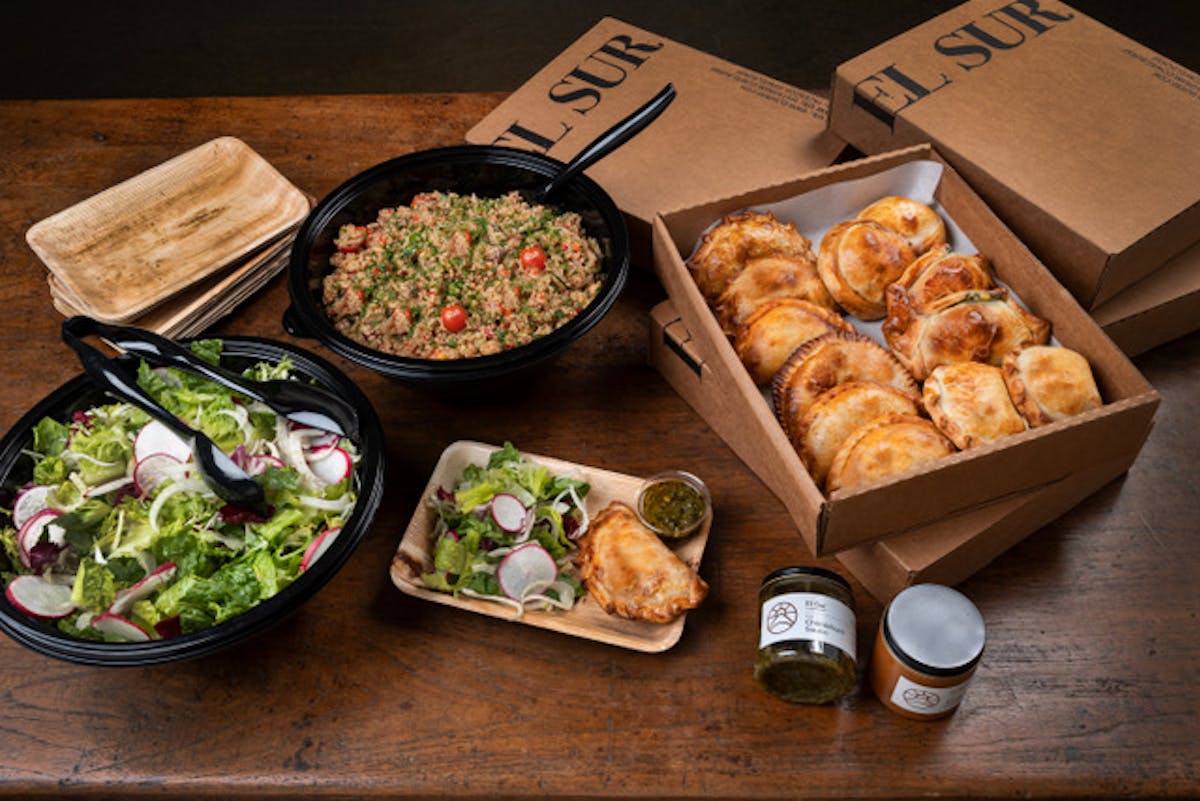 Are you tired of the same old corporate catering options?
Boring sandwiches, sweaty cheese, and limp, uninspired salads are enough to make any business meeting feel like a snooze fest.
But with El Sur Empanadas, you can add some excitement to your next corporate event!
Our handmade empanadas are a delicious and affordable option that will please even the pickiest of eaters. And because they're handheld, they're perfect for working lunches or mid-meeting snacks.
You might have seen our vintage 1970 Citroen H-Van around the San Francisco area. And if you haven't caught a glimpse of this beauty yet, keep an eye out for it! There's a reason why we've been around since 2012 and named one of the Top 20 Food Trucks in the Bay Area by the SF Chronicle.
And now we can bring our award winning food to your door!
Our empanadas are a delicious and unique twist on traditional Argentinian party fare, and they're sure to be a hit with your employees.
Made with fresh, locally sourced, quality ingredients, our empanadas are baked to perfection and can be customized to suit any taste. They come perfectly paired with our favorite dipping sauces, such as the classic Argentinian Chimichurri, the flavorful Mole Sauce inspired by our Mexican friends, or the timeless Honey Mustard sauce that goes well with just about everything.
El Sur empanadas are as Argentinian as Maradona... but with a French twist from our Cordon Blue-trained chef and founder. The fillings range from the household names to the deliciously adventurous. We have the all-time classic Traditional empanadas, filled with hand-cut beef, red pepper flakes, olives, and egg. And if they're too hot for you, try the Carne Suave, which has all the meat without the spicy touch.
As well as offering you the classic Argentinian flavors, let us tantalize your tastebuds with some of our more groundbreaking fillings, like the Tartiflette. You don't have to ski your way to the Alps for this flavor sensation anymore; we bring it to you in a deliciously doughy empanada with all the bacon, caramelized onion, potato, egg, and cheese.
Or the Parisien, combining Kurobuto ham (there's a reason it's called the "world's best ham" by chefs all over!) with prosciutto and the best cheeses.
But it's not all meat- if you're worried about your vegetarian friends, don't be; we got them covered! We have our Verde empanadas filled with our fancy version of spinach and cheese (why stop at one cheese when you can have 5?), and our classic Champiñones filled with juicy mushrooms with a touch of crème fraîche and provolone cheese.
And if you have a sweet tooth, we also have something for you. Our scrumptious Manzana empanadas, filled with braised apple, caramelized sugar, a touch of cinnamon, vanilla, and lemon, will make your mouth water.
Whether you're hosting a big event, a business lunch, or any other type of gathering, El Sur Empanadas will take care of the food to make it a truly memorable occasion.
If you're looking for something new and different for your next corporate catering needs, give El Sur Empanadas a try! You won't be disappointed.