Empanadas - A Game Day Favorite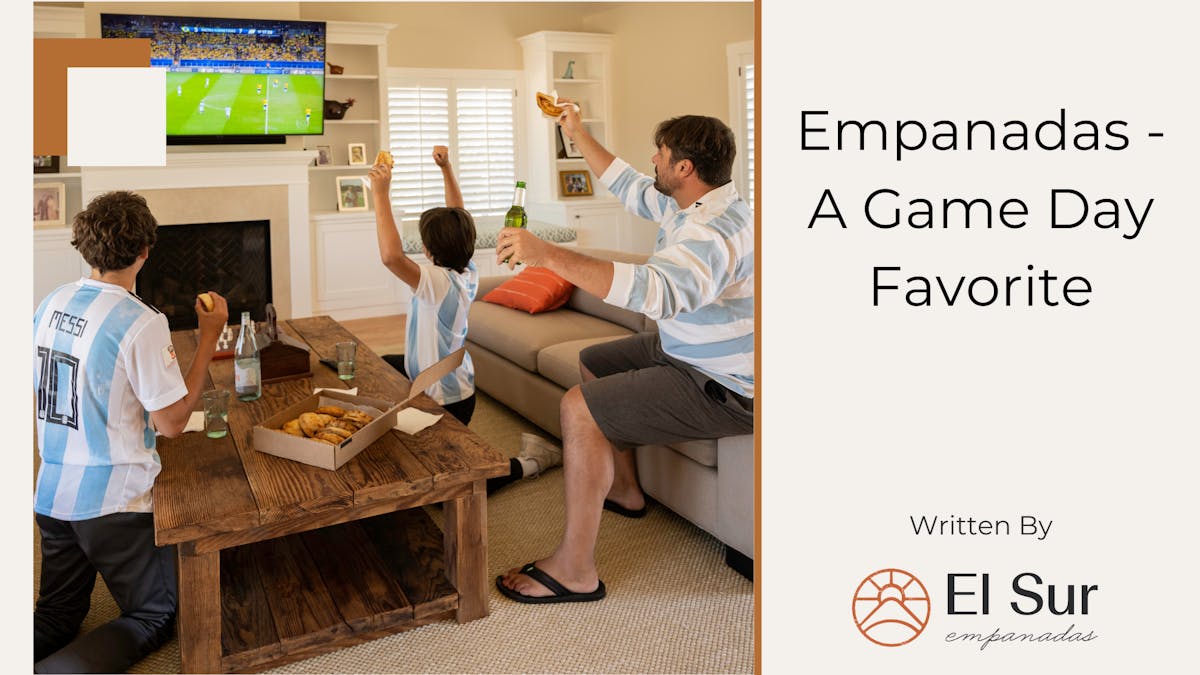 What pairs great with the big game? How about doughy pockets of goodness filled with a delicious surprise! Ready to bake at home and ready to enjoy, sink your teeth into our wide variety of traditional Argentinian empanadas. Here's why they are such a crowd-pleaser.
Great with Drinks
Whether you're chugging beer, sipping on wine or keeping it alcohol-free, empanadas are the perfect mini-meal to enjoy with your beverage of choice. Small but mighty and packed with lots of heat, they complement cool drinks ideally. So prep your game day by balancing out El Sur's delicious hot empanadas with chilled drinks from the cooler or fridge.
Something for Everyone
Empanadas are also a great meal or snack to have for game day or any other type of gathering because you don't have to commit to one flavor. You can get a box of assorted fillings to make sure everyone is happy. What do we suggest? Order a box of 12 or 24 empanadas. Each empanada flavor comes in a group of 4. Vegetarians can be satisfied with our indulgent Verde, filled with spinach, cheese and egg. There are also other vegetarian options to fulfill our herbivore friends' cravings - our mushroom-packed Champiñon, and our breakfast-in-an-empanada Verdura.
Don't panic, meat lovers! You get to enjoy different pockets filled with ham, beef and chicken, and that's including the regular traditional Argentinian fillings like cheeses, tomato, pimenton, olives and eggs. Don't forget to try the Parisien with ham and prosciutto - ooh, la la!
Easy to prep
A side of stress is never welcome at the game day table, so opt for minimal effort that delivers big flavor. Save the tension for the game instead and order your empanadas in our Bake At Home frozen batches and keep popping them into the oven as your event progresses, or you could get them hot straight away and enjoy them without having to worry about oven time.
Seamless catering and delivery
Did you know that we deliver your El Sur empanadas right to you? Place an order online and it will show up right at your door in Nevada and California. We ship our empanadas frozen so that you can bake them at home and enjoy them hot and fresh out the oven. If you're making your game day event an epic affair and want to take your munchies up a notch, Take it back to old school with us and hire our food truck catering service. We'll park right outside your house or venue and serve you empanadas till you say stop. Warning: you might not want to ever stop! El Sur was named one of the Top 20 Food Trucks in the Bay Area by the SF Chronicle for a reason.
Touchdown with Sauces
Don't forget that with every empanada comes a sauce that ties in all of the flavors together. At El Sur, we have two game-changing sauces that pair perfectly with all of our empanadas. Really! We can't even choose which is our favorite! For those who can handle the heat, our Salsa Criolla is oh so spicy and satisfyingly made with a medley of peppers.
Our second option is a gorgeous chimichurri, which is a great sauce to eat with any type of meat. In Argentina, we eat it with steak, traditionally. At El Sur? We eat it with everything. It's fresh, acidic and mild if you can't handle the spice.
Pre-order your empanadas on our website to get your selection sorted for your game day or any other event. Empanadas are elegant, versatile and exciting, and not to mention, they go with anything. Enjoy these mini meals by including them on your game day table.