Empanada Wine Pairings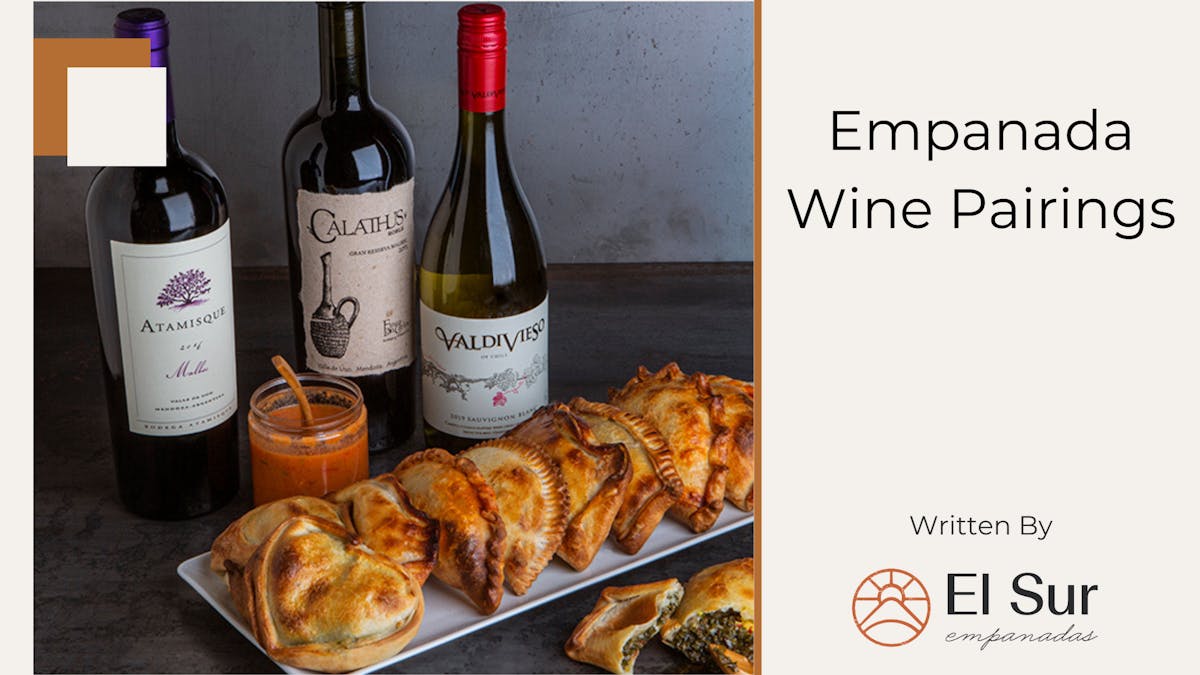 There's nothing more delicious than biting into crisp warm freshly baked empanadas from El Sur topped off with a chilled glass of wine. Don't you agree? We are constantly asked which wine pairings go best with our popular flavorful offerings. Our nine different filling varieties call for only the best wines to capture that scrumptious taste. Since we specialize in handmade, Argentine-style empanadas, we're inclined to suggest South American vintages but California wines marry well with our savory pies.
When pairing a wine with your empanada, we look for the strongest aroma bridge between the empanada's ingredients and the weight of the wine. Does that sound too complicated? It doesn't have to be. Many of our customers choose our traditional spicy empanada made with hand-cut Five Dot Ranch beef, onions, oregano, pimentón, red pepper flake, olive, and egg. The optimal partner to embrace these delicious cubes of flavorful meat is a red wine of medium body with intense color and attractive aromas.
The Carne Suave is another delicious option created by our chefs with Five Dot Ranch ground beef, onions, oregano, pimentón, olive, and egg. Our customers seek to pair this empanada with a rich fruity flavor of wine from the Malbec region. A chilled glass of either a full-bodied Tempranillo or red Rhône wine also works well with both ground and hand-sliced beef empanadas.
Consider a white wine with good structure to go along with our Pollo Saltado Spicy empanada.
Made with high-quality chicken, onions, tomatoes, serrano, parsley, onions, olive, and egg, this handmade delicacy hits all the right notes for chicken lovers. A South American Sauvignon Blanc white wine is a perfect accompaniment or pour a glass of a full-bodied, red wine like Rosé Lirac, a classic regional blend of Grenache, Syrah, Mourvedre and Cinsaut.
If you are leaning toward the Parisien Empanada made with delectable Kurobuta ham, prosciutto, green onions, five kinds of cheese, and chives, perhaps your wine choice should be just as adventurous. The Parisien is a culinary treat for anyone who wants to try something a little different than the more traditional empanada. We recommend wines like the crisp, herbaceous and zesty Sauvignon Blanc, which pairs wonderfully with the rich flavors of the ham and prosciutto.
Our vegetarian friends choose two of our empanadas as favorites. The Verde empanada is made with swiss chard, spinach, onions, five kinds of cheese, olives, and egg. When you break into the crispy edge of the empanada and the five different creamy cheeses melt into your mouth, you'll want to complete the experience with a medium bodied white wine with good structure and acidity.
And what if you are partial to our other great vegetarian choice? The Champiñones empanada is stuffed with sliced mushrooms, shallots, crème fraîche, provolone, and chive. Which wine pairs best with the earthy mushrooms? Try a medium body red wine that is elegant yet subtle and will leave a long and lingering finish.
No matter which empanada is your favorite treat, raise a toast for selecting a delicious wine paired with your El Sur empanada. You can relax and feel as if you're sitting in an authentic restaurant in Buenos Aires savoring the traditional flaky dough and delicious fillings along with a crisp glass of chilled wine.