Empanada Fillings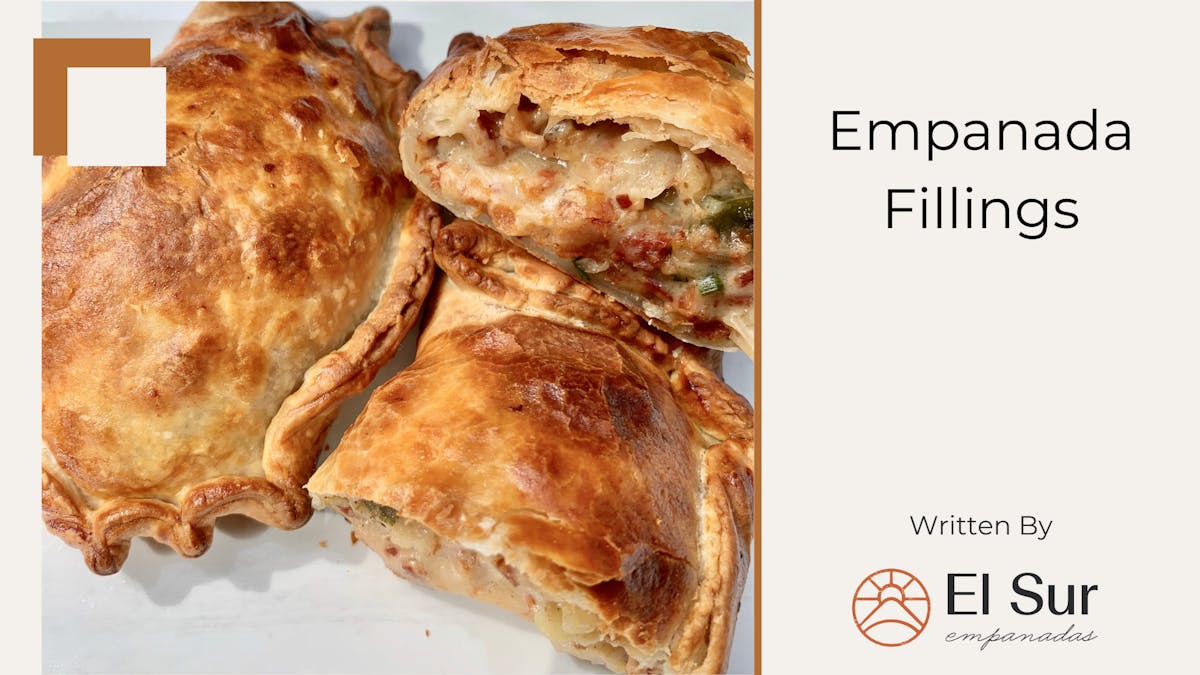 Empanadas are as diverse and rich as the cultures that shaped them over the last 500 years. From their earliest mention in a 1520s Catalan cookbook to the hundreds of modern varieties that followed, the dish is popular globally, but especially in Latin America. We're a proud product of that history.
At El Sur, we specialize in Argentine-style empanadas developed with French culinary techniques. Both our ready-to-bake frozen and hot empanadas are prepared by hand with locally sourced ingredients from trusted supply partners.
Our commitment to you is based on quality, convenience, and variety. Get to know our products by taking a look at the empanada fillings available with each order.
Traditional (spicy)
Starting with an all-time classic, our traditional empanadas are made with hand-cut beef, onion, oregano, pimentón, red pepper flakes, olive, and egg. We source our beef from Five Dot Ranch in Northern California, a family-run ranch that's been operating for seven generations.
Carne sauve
If you like traditional empanadas but without the extra spice, try our carne sauve filling. It's packed with ground beef, onion, oregano, pimentón, olive, and egg, but without spicy red pepper flakes. It's the perfect flavor blend while still being gentle on your palette.
Pollo saltado (spicy)
Where there's delicious beef, there tends to be flavourful chicken too. Our spicy pollo saltado combines succulent chicken, onion, tomato, serrano, parsley, olive, and egg for a juicy filling. Try it if you're looking for something light but filling, with plenty of flavor and a little kick.
Parisien
Treat yourself with our parisien filling, prepared with Kurobuto ham, prosciutto, green onion, five kinds of cheese, and chives. Called the "world's best ham" by many chefs around the world, Kurobuto ham adds a melt-in-your-mouth experience to every bite. It's the perfect complement to the sweet, salty flavor that prosciutto is famous for.
Verde (vegetarian)
If you're looking for delicious empanadas but without the meat, we offer three vegetarian options, starting with our verde empanada. Stuffed with creamy swiss chard, spinach, onion, 5 cheeses, olive, and egg, it's a great meal for when you need to warm up with something delicious.
Champiñes (vegetarian)
Our second vegetarian option is a treat full of savory goodness. Try our champiñes filling of sliced mushrooms, shallots, crème fraîche, provolone, and chive. Its creamy texture and delicate flavors bring the best out of a flaky, golden crust.
Verdura (breakfast, vegetarian)
Verdura empanadas aren't just flavorful, they're hearty enough to mellow any winter day. Filled with braised greens, onion, potato, egg, and goat cheese, it's the perfect breakfast empanada for vegetarians.
Tartiflette (breakfast)
Speaking of morning meals, is there a more iconic breakfast ingredient than bacon? Our tartiflette empanadas are prepared with bacon, caramelized onion, potato, egg, cheese, and chive for rich flavors that range from savory to sweet.
Try our wonderful empanadas today
At El Sur, we specialize in handmade, Argentine-style empanadas. Shop our online menu to find your next favorite meal. With delivery available in California and Nevada, why not try one of our selection boxes of authentic handmade empanadas and curated pairing wines? You deserve it!