Dipping Sauces for Empanadas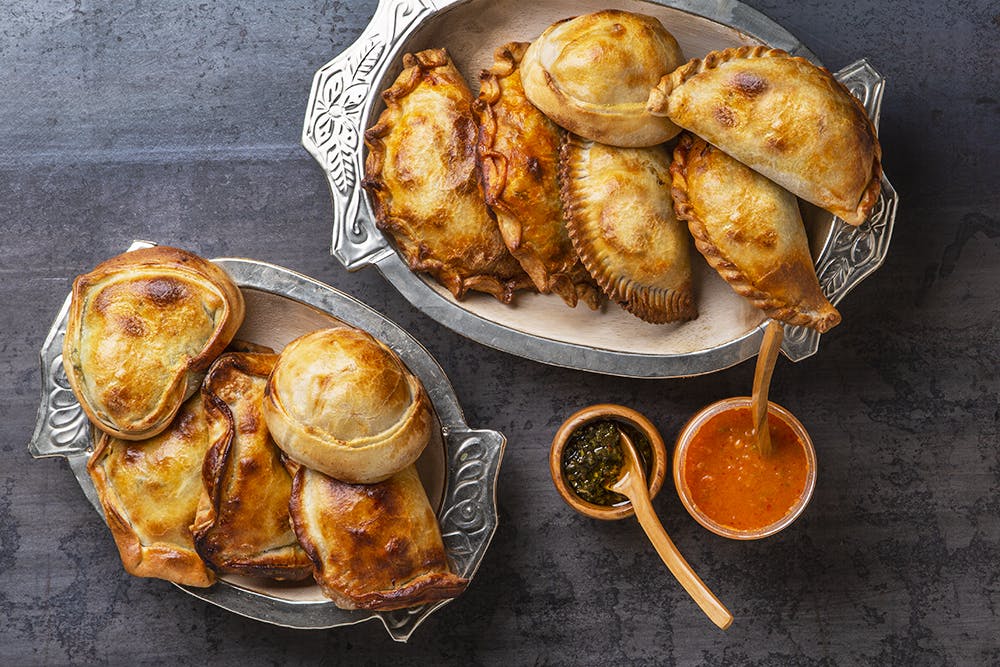 How do I like my empanada? It's a no-brainer that I love fresh empanadas. But if I want to take it up a notch, I love dipping my empanada in a delicious sauce. Here are some of my favorite dipping sauces for empanadas:
Salsa Criolla
This is a sweet and tangy dipping sauce. It's a mixture of chopped tomatoes, onions, peppers, salt, and vinegar or lime juice. Sometimes it also includes garlic, oregano, or parsley as well. The consistency looks similar to salsa but with slightly more liquid.
Chimichurri Sauce
My best empanada dipping sauce is chimichurri sauce. This is a delicious Argentinian sauce made from parsley, garlic, olive oil, red wine vinegar, and a touch of chili pepper flakes. It has a bright green color and an herby, garlicky taste.
This is a perfect dipping sauce for beef or chicken empanadas.
Salsa Verde
Salsa verde is another excellent option for dipping my empanadas. This classic Mexican sauce is made from tomatillos, jalapeños, onions, cilantro, and lime juice.
It has a bright green color and a slightly tart, acidic taste. This sauce goes well with pork or chicken empanadas.
Honey Mustard Sauce
A classic honey mustard sauce is always an excellent dip for my empanadas. It's simple, flavorful, and goes well with just about any type of empanada.
My kids also love this sauce.
Romesco Sauce
Another delicious option for El Sur empanadas is romesco sauces. This Spanish sauce has a rich red color from roasted tomatoes and peppers.
Other ingredients include garlic, almonds, hazelnuts, smoked paprika, red wine vinegar, and olive oil. This sauce is great for dipping chicken or egg empanadas.
Anaheim Chili Sauce
I love my Argentinian empanada dipping sauces spicy. So I'm crazy about this green chili sauce.
It's made from fresh Anaheim chiles, tomatillos, onions, garlic, and cilantro. It has a bright green color with an herby taste that goes well with beef or chicken empanadas.
You can also pair it with a little bit of sour cream to make it even more delicious.
Marinara Sauce
I love pairing my empanadas with a good marinara sauce. The rich, savory flavors of the meat and vegetables in each bite go perfectly with this classic tomato-based dipping sauce.
Mole Sauce
When feeling adventurous or trying something new, I will order EL Sur empanada and accompany it with mole sauce. This complex and flavorful sauce is the perfect complement to the crispy empanadas.
Chipotle Aioli
I love the smoky, spicy flavors of chipotle aioli. This dipping sauce is more upscale and can be made relatively quickly at home. And it always adds an extra level of deliciousness.
Chipotle aioli is made with smoky chipotles in adobo sauce, garlic, and olive oil.
Tomato Sauce
A simple marinara sauce is a great dipping sauce for empanadas. This classic tomato-based sauce has a rich, savory flavor that goes well with just about any type of empanada.
Plus, I always have the sauce in my pantry, so I can make it anytime I want.
There you have it! My favorite empanada dipping sauces. Whether you're looking for a classic sauce or something a little more exotic, there's sure to be a perfect dipping sauce for your empanadas. So get creative and enjoy!
Did you know that you can order handmade Argentinian empanadas to be delivered to your doorstep? We have lunch takeout, ready-to-bake (frozen), and catering for groups!
And yes, we have the dipping sauces.